Herd of rare Banteng spotted in Mondulkiri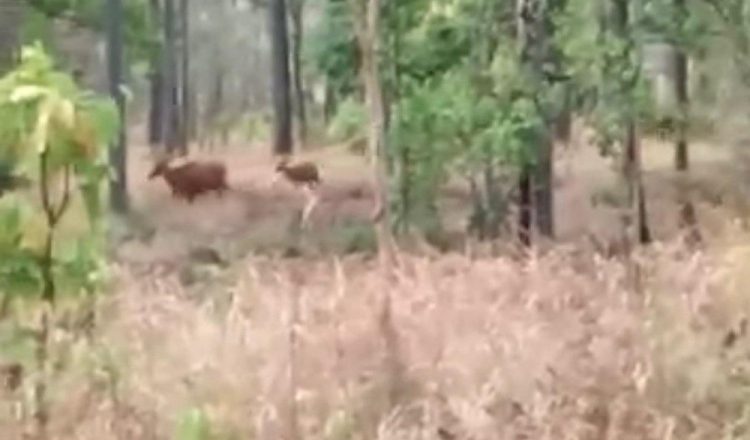 A herd of Banteng has been spotted by WWF biodiversity researchers,
The researchers found the animals while they were monitoring and collecting data to support their wildlife surveys in the WWF's supported Phnom Prich Wildlife Sanctuary, a protected area under the management of the Mondulkiri Provincial Department of Environment of the Ministry of Environment.
WWF's scientists described there were at least 7 individuals captured in the video clip, including one juvenile and a majestic bull Banteng, and that the herd was moving fast after they were startled by other animals or potentially by the researchers
Considered to be one of the most beautiful and graceful of all wild cattle species, the Banteng (Bos javanicus) – listed by IUCN as globally endangered – is most likely the ancestor of Southeast Asia's domestic cattle. The scientists also described that Banteng is an important prey species of Tigers and that the animal population is however threatened by a series of substantial pressures from poaching, snaring and habitat loss due to illegal logging and forest land encroachment.
"Videotaping Banteng in the wild although with use of a cellphone camera required great patience and extreme caution in order to ensure the researcher's own safety, while documenting the presence of this majestic animal in one of Cambodia's rich biodiversity hotspots," said the press release.
Credited: Khmer Times