Draft law reviewed to curb money laundering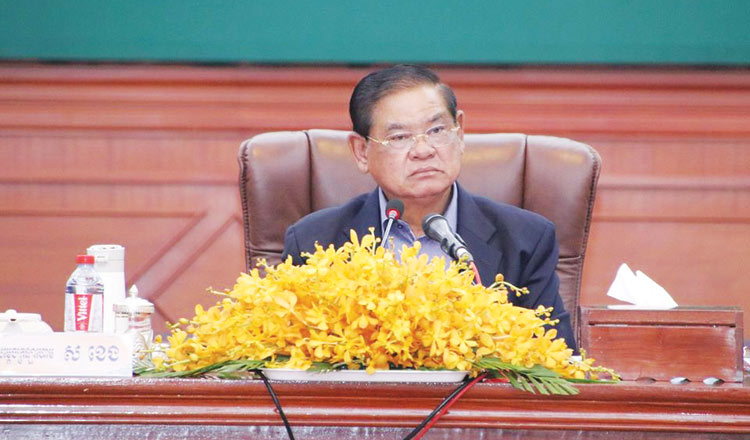 Interior Minister Sar Kheng yesterday held a meeting to review a draft law on Anti-Money Laundering (AML) and Combating the Financing of Terrorism (CFT) in a bid to curb money laundering in the Kingdom. The move is motivated by the global money-laundering watchdog Financial Action Task Force's decision in February last year to place Cambodia on its grey list.
"The lack of such laws was why Cambodia was placed on the grey list as it makes the country seem risky. It also makes investors apprehensive about investing in the country, which, in turn, impacts the economy," said Mr. Kheng in a Facebook post on Tuesday. He added if the lack of such laws is not amended, the country could be placed on the blacklist.
The draft law, said Mr. Kheng, is designed to respond to social developments and comply with international standards that require Cambodia to have specific mechanisms. He added the draft will be finished soon and will be forwarded to the Council of Ministers for approval.
Interior Ministry spokesman General Khieu Sopheak yesterday declined to comment as he was not present in the meeting.
However, Finance Ministry spokesman Meas Soksensan said yesterday: "The ministry is actively partaking in fighting money laundering and making efforts to see the removal of Cambodia from the grey list. It will be a great cause of concern if we were blacklisted as it could lead to the blocking of bank transactions."
Pech Pisey, Executive Director of Transparency International, yesterday expressed his disappointment with Cambodia being on the grey list, saying it signals the country's high vulnerability to money laundering.
"Normally, having a legal framework is a step in the right direction. However, what is even more important is the enforcement of laws and regulations. One of the main reasons that the country was placed in the grey list was due to the fact that no money laundering case had ever been prosecuted in Cambodia," Mr. Pisey said.
He added: "Cambodia must adopt any significant additional anti-money laundering legislation as mentioned. The government should continue its work to increase the volume and quality
of Suspicious Transaction Reports and Currency Transaction Reports from reporting entities of all types and increase the operational independence as well as the capacity of the nascent and understaffed Cambodia Financial Intelligence Unit. Cambodia should respond and follow FATF's 40 recommendations to improve its rank.
"Cambodia has taken steps towards improving its AML/CFT regime, including by initiating off-site and on-site supervision of the real estate and casino sectors. I believe that it is a good step moving forward. I would encourage the government and relevant authorities to take even tougher actions on the issue as it is crucial for the reputation and the development of the country."
In addition, Mr. Pisey recommended that the scope of the draft law be expanded. He also noted the importance of adopting legal measures and fully enforcing regulations that require non-financial businesses trading in high-value goods to comply with anti-money laundering obligations, such as due diligence by doing proper checks on customers or investments, record keeping, and suspicious activities reporting. Khmer Times