A 95-year-old grandmother becomes the oldest person to recover from coronavirus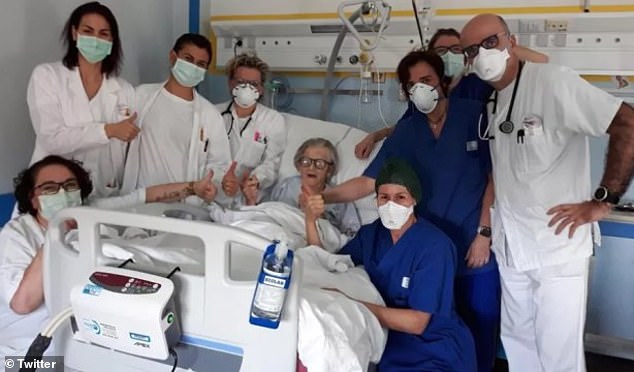 A 95-year-old grandmother who was diagnosed with the coronavirus this month has become the oldest patient in the Italian province of Modena to recover from the illness.
Alma Clara Corsini, from Fanano, was rushed to a hospital in the city's northern province of Pavullo on March 5 after showing signs of the virus- which has now claimed the lives of 5,476 in the nation.
However medical staff have now confirmed the pensioner's body has shown a 'great reaction' and made a full recovery.
Ms Corsini told Italian newspaper Gazzetta Di Modena: 'Yes, yes, I'm fine. They were good people who looked after me well, and now they'll send me home in a little while. '
The 95-year-old has since been discharged and has returned home.
Specialists at the hospital added that the grandmother was able to recover without 'antiviral therapy'- medications which are administered to a patient to help them fight a viral infection.
According to the Italian paper, Ms Corsini became the 'pride of the staff' during her stay at the hospital which has been trying to cope with the rising number of cases of COVID-19 in the country.
Source: dailymail