Government-Private Sector Forum to be Held in April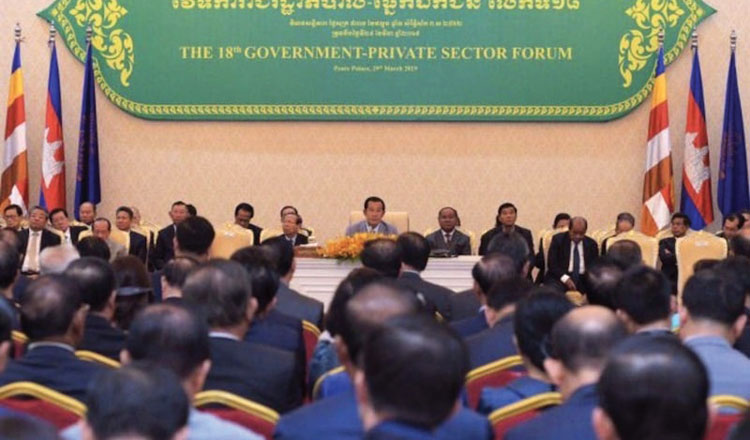 Business leaders and investors from 13 private sector working groups are mulling making a list of issues to submit to the government seeking solutions for the upcoming Government-Private Sector Forum (G-PSF).
Scheduled for April, G-PSF will be a platform for the private sector from different sectors to meet with the head of the Cambodian government to raise issues facing business and investment and seek solutions and recommendations. As usual, Prime Minister Hun Sen will chair the forum.
Lim Heng, vice-president of Cambodia Chamber of Commerce, which leads the private sector working groups, spoke yesterday which private sector industries face challenges and prioritized common issues for the government to deal with to ease doing business doing in the country and facilitate investment.
He said issues raised by the private sector will be submitted to the forum when those issues could not be solved at the ministerial level.
"Some issues we have submitted to the ministries already to ask for solutions. In case some of those still could not be solved at minister level, we will submit issues to the forum," Lim said, citing issues including construction, taxation, health, education among others.
The G-PSF this year is the19th since it was established in 1999 by the Cambodian government and was designed to improve the business environment, build trust and encourage private investment through a demand-driven process with the private sector identifying issues and recommending solutions.
Last year, the 18th G-PSF was held in March and a total of 17 solutions were presented, including the decision to reduce public holidays from 28 in 2019 to 22 days in 2020.
"The 17 points recommended last year have been implemented progressively, but there are some still not implemented completely. We will continue working with the private sector, government officials and relevant ministries to cooperate in finding solutions together," Lim said.
Prime Minister Hun Sen has urged for internal reform aimed to attract more investment by reducing the cost of products, reducing pepper-processing documents and trying to ensure investors see Cambodia as an attractive investment location.
The Council of Development of Cambodia acts as the secretariat of the G-PSF. It facilitates dialogue within and among the joint government-private sector working group and, broadly, between the government and the business community.
KHMER TIMES