New GFT sector strategy identifies two areas of interest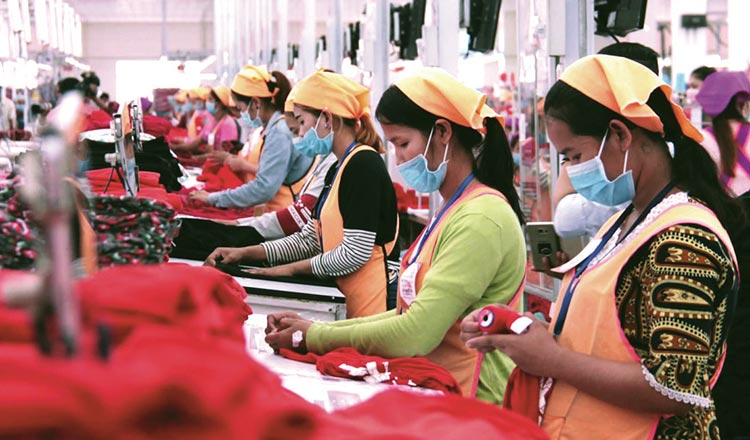 The Ministry of Economy and Finance (MEF), which launched its new strategy for the Garment, Footwear and Travel Goods (GFT) sector, pinpointed two areas of interest it sees as structural issues that need to strengthen the industry.
An upgrade in the quality of production into higher-end goods and the adoption of more environmentally sustainable production methods are what the Government described as being priorities to meet the challenges.
In its press release for the launch, the MEF noted that the sector's exports had maintained an average of above 70 percent of the country's total exports since 2008. So far, the industry has been focused on what the International Labour Organisation's (ILO) 2021 report on the Garment industry in Southeast Asia described as the 'cut-make-trim business model'. It is the lowest-value segment of the supply chain, depending on importing raw materials, equipment, and designs. It relies on a low-skilled workforce and a labour-intensive model driven by low wages.
Ken Loo, Secretary-General Garment Manufacturers Association in Cambodia (GMAC), doesn't see the industry's workforce as being exactly low-skilled. "Upskilling is what is needed, and it's always been a part of training the workforce," he said while agreeing with the MEF's point of needing to create more upstream and downstream industries in the country to support the sector. "We don't produce any fabric here, and for example, any metal parts we need for making handbags or jeans such as buckles and buttons, we have to import too," he explained.
Loo said, "It would involve aligning with the buyer's needs to see more renewable energy and environmentally friendly production methods such as dealing with wastewater discharge and waste material, and introducing more use of solar and clean energy."
The United Nations Environment Program (UNEP) listed numerous statistics in recent years showing the environmental impact of the garment and textile industry. The statistics have helped sway public opinion to influence their buying habits, opting more for products where higher standards and accountability are met, resulting in more companies being made to clean up their act to adapt to consumer demands.
According to UNEP, the fashion industry – driven by the 'fast fashion' trend of using items a small number of times before dumping them — is responsible for 20 percent of global wastewater. Much of it is contaminated by toxic dies, 10 percent of the world's carbon emissions and is estimated to be responsible for one garbage truck of clothes being dumped or incinerated every second. On top of this 60 percent of the industry's production is made from plastic, resulting in contamination of the oceans with trillions of plastic microfibres.
For wastewater treatment, Loo would not go into details of how this could be done in Cambodia. He said, "I can't go into details of a strategy if you're asking me about a policy that's just been launched." However, he did individuate an alternative for dumping the industry's waste material in landfills. "A huge amount of waste ends up in landfills, so going forward, we want greener ways of disposal of our waste such as incineration."
For the ILO, an Environmental impact assessment (EIA) is one of the central mechanisms for environmental regulation and a critical tool in planning for and ensuring sustainable development. The MEF has yet to establish what the industry standards will be and how it intends to roll out the monitoring of activities. Still, as the informed global public continues to be more conscious of environmental issues, Cambodia's GFT sector will be trying to adapt to the changes in the market to retain its foothold. Khmer Times