Cambodia, Singapore to further boost bilateral trade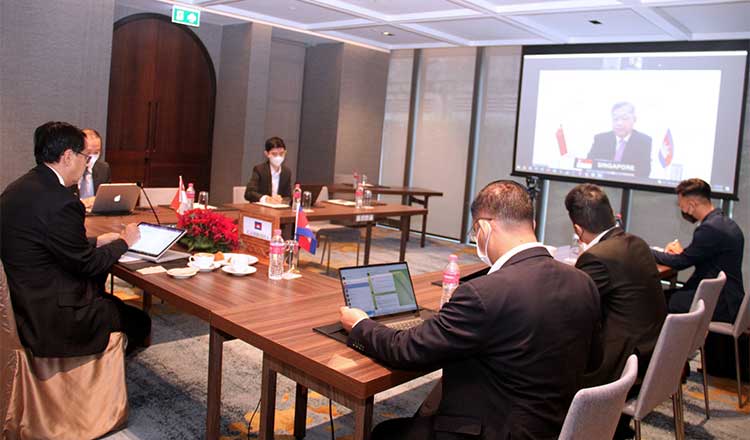 Both countries are exchanging views on post-Covid-19 crisis recovery efforts and the progress of Asean's response to the Covid-19 crisis; review and approval of the recommendations of the 41st Meeting of the High-Level Working Group on Asean Economic Integration to the 28th Asean Economic Ministers' Meeting
Cambodia and Singapore have reaffirmed their commitment to continue strengthening cooperation on trade and investment. Commerce Minister Pan Sorasak held a videoconference with Singapore's Trade and Industry Minister Gan Kim Yong on Monday.
The meeting focused on strengthening Cambodia-Singapore trade relations and, in particular, Cambodia's readiness to organise and chair the 28th AEM Retreat, which will take place on Wednesday and Thursday.
According to a press release from the Ministry of Commerce, the two ministers exchanged preliminary views on a number of issues to be discussed at the meeting, including monitoring the follow-up work in line with the outcome of the 38th and 39th Asean summits.
Both countries are exchanging views on post-Covid-19 crisis recovery efforts and the progress of Asean's response to the Covid-19 crisis; review and approval of the recommendations of the 41st Meeting of the High-Level Working Group on Asean Economic Integration to the 28th Asean Economic Ministers' Meeting.
There are also preparations for the approval of relevant documents to officially announce the opening of negotiations on the improvement of trade agreements discussion on Asean strategies to enhance better relations with Asean partners, especially to expedite the timely completion of the Asean-Australia-New Zealand Free Trade Area upgrades; and Asean Leaders' Statement on Strengthening Asean Digital Transformation.
The bilateral trade between Cambodia and Singapore reached $4.2 billion last year. Singapore's investments in Cambodia reached $1.29 billion between 1994 and 2020.
Singapore will buy more of its agricultural exports from Cambodia, including Kampot pepper, palm sugar, mangoes and milled rice.
Cambodia's imports from Singapore include oil, machinery, food and beverages, paper, precious stones and electronic equipment. Khmer Times