DPM Tea Banh Speaks Highly of Cambodia-Japan Military Cooperation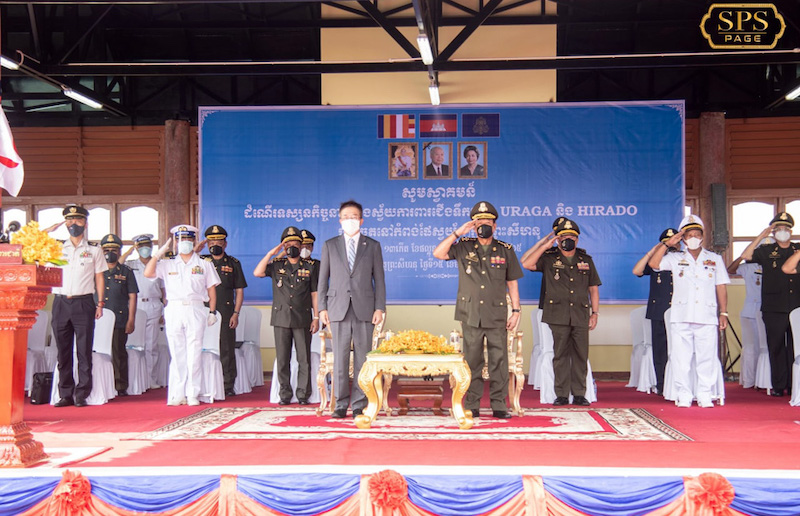 Cambodian Deputy Prime Minister and Minister of National Defence H.E. Gen. Tea Banh has lauded the military cooperation between Cambodia and Japan despite the COVID-19 crisis.
"In spite of COVID-19, the military cooperation between Cambodia and Japan has seen noticeable progress through the exchange of delegations between the Royal Cambodian Army and the Japanese Ground Self-Defence Force, peacekeeping support, naval ship visit, human resource training, especially the docking of two defence vessels of the Japanese Maritime Self Defence Force (JMSDF) at the Sihanoukville Autonomous Port now," he said while welcoming the visit of the two JMSDF vessels – URAGA and HIRADO – with a total of 180 crew members at the port in Preah Sihanouk province this morning.
H.E. Gen. Tea Banh expressed his conviction that through the visit, Japan will further boost the bilateral cooperation plan with Cambodia, such as the exchange of visits by young and senior officers, capacity building for the Cambodian army on Humanitarian and Disaster Relief (HADR), and so on.
The port call of URAGA and HIRADO from Mar. 15 to 17, 2022 is aimed to promote the friendship and mutual understanding with the Royal Cambodian Navy and to commemorate the 30th anniversary of peacekeeping operation (PKO) in Cambodia,
H.E. Gen. Tea Banh took the opportunity to express his gratitude to Japan and other friendly countries for their great contributions to the history of Cambodia 30 years ago in sending forces to seek peace for the nation and the people of Cambodia.
The Cambodian DPM also reaffirmed the Royal Government of Cambodia's commitment to continue helping build and maintain peace and protect innocent people around the world, as well as joining the international community in addressing issues related to climate change, terrorism, and transnational crime.
Cambodia considers peace to be the highest priority for the nation, focusing on the protection of the fundamental rights of all citizens, first and foremost: the right to life, the right to health care, and the prevention against COVID-19, he said.
"[…] History has repeatedly told us that interfering with the use of military options in determining the system of governance is not the solution. It only brings loss of life, pain and suffering for humanity and more socio-economic conflicts," he stressed.
From 2008 to 2022, JMSDF visited Preah Sihanouk province 9 times with a total of 24 vessels to strengthen and expand the relations and cooperation between both navies. AKP