Lao PM extends thanks to Cambodia for vaccine aid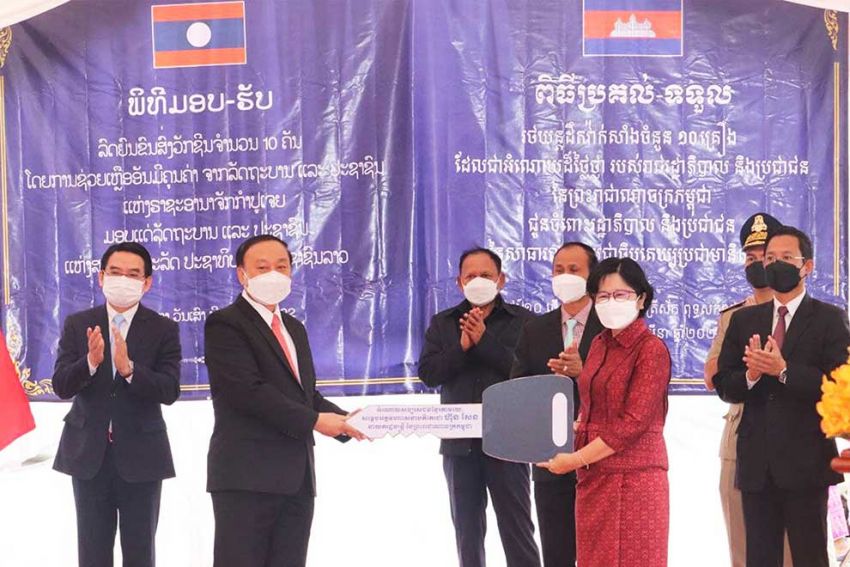 Lao Prime Minister Phankham Viphavanh thanked the Cambodian government for its donations to help the neighbouring country fight Covid-19, with the latest donation being 10 vaccination vehicles.
In his March 12 letter, Phankham thanked Prime Minister Hun Sen for the donations – which included 700,000 vaccine doses, $13 million in financial support and 13 vaccination vehicles including the latest 10 – and for the warm hospitality he received during his visit to the Kingdom in November.
"On behalf of the party, government and the people of Laos, I take this opportunity to express our gratitude and sincere thanks to Prime Minister Hun Sen for providing assistance to the Lao People's Democratic Republic, especially during this difficult time, as both of our both countries face the Covid-19 pandemic.
"It is particularly important that Cambodia has the will to provide the above-mentioned aid to Laos, as it is making a significant contribution to the vaccinations goals we hope to achieve," it said.
He added that the assistance showed the big hearts of the Cambodian people and their government. The care they had shown for the people of Laos reflected the close friendship both countries traditionally have with each other. It also demonstrated good cooperation in the spirit of their strong, productive, comprehensive strategic partnership.
The 10 vaccination vehicles – delivered to the country on March 12 – will provide a boost to the neighbouring nation's vaccination drive as well as bilateral relations between the two countries, Phankham added.
The handover ceremony was held at the Trapeang Kriel International Border Checkpoint in Stung Treng province, bordering Laos' Champasak.
Ministry of Health spokeswoman Or Vandine, who is also head of the national Covid-19 vaccination committee, represented Cambodia at the ceremony, saying that the Kingdom and Laos have a long history of friendship. She spoke of the current close bilateral and multilateral cooperation – in the framework of ASEAN – and how they were working to bring peace, security and sustainable development to the two nations and the region.
She said Cambodia made three donations to Laos last year.
"This is our fourth donation to Laos. It reflects our concern for the people of our neighbouring country and a deep solidarity with the whole world as it faces this unprecedented crisis. This good-hearted humanitarian assistance also demonstrates the amount of care our leader has for the people of Laos. It shows that Cambodia is a small country with a big heart," she said.
Lao health minister Bounfeng Phoummalaysith, who was on hand to receive the fourth donation, thanked the Cambodian government for its dedication to public health across the borders. Addressing the Covid-19 crisis together goes to show that the relationship between the two neighbours is one of solidarity and cooperation, he said. Phnom Penh Post