Cambodia Supports Sustainable Agriculture Production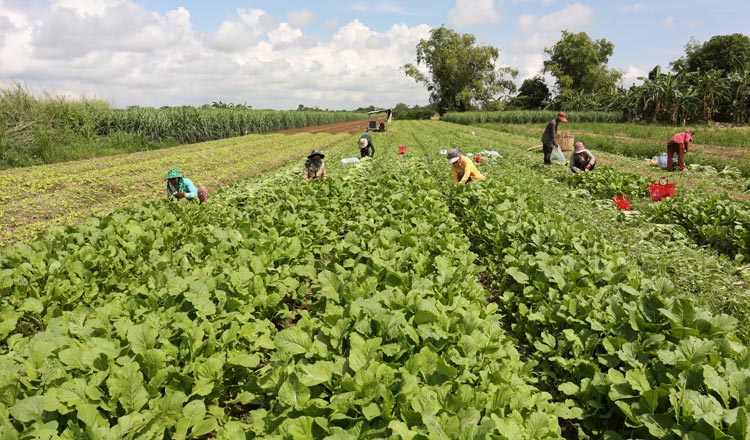 Cambodia has voiced support for regional efforts towards more effective and competitive agriculture production while sustaining the environment as discussed at a regional conference yesterday.
Japanese Minister of Agriculture Nogami Kotaro hosted a video conference with Asean counterparts including Cambodia's Minister of Agriculture Veng Sakhon, who whole-heartedly supported the joint statement issued after the meeting, saying it was in line with the Kingdom's Cambodian Agricultural Development Plan 2030.
The ministers also discussed the fight against climate change and its impact on agriculture production and food systems in the region.
The Japanese minister had invited Cambodia, Singapore, Laos, Malaysia, the Philippines and Vietnam to the "Sustainable Agriculture Production and Food Systems" conference.
NGO Vulnerability and illiteracy Reduction (VIR) project coordinator Pen Chet said that it is good if the Ministry of Agriculture can help poor farmers to lead a sustainable life by first providing them more opportunities.
"Right now, farmers are facing some difficulties to make income after they have products with no market. It is very hard to sell their products," said Chet.
Sen Rath, a farmer in Siem Reap province's Sour Nikum district, said that this is the first time she heard about this policy on increased agriculture production and sustainable food systems.
She said: "If the government has a plan to help farmers like me, I will be very happy about this plan in the future. Although I live very far from the city, I hope my family will benefit from the new plan."
Cambodian Farmer Association Federation of Agricultural Producers (CFCAP) managing director Sok Sotha told Khmer Times yesterday that sustainable agriculture production and food systems are not yet implemented in Cambodia.
"I see that the idea of creating sustainable agriculture production and food systems is very useful to build the trust between producers and consumers. It's beneficial for all of us to have a good system," said Sotha.
"It will be easier to export the products to other countries. They will trust us that we have products meeting international standards, so I totally support this idea and want to see it in real practice in Cambodia in the future," Sotha said.
The objective of the joint statement is to attract investment from countries all over the world, focusing on agriculture, especially countries in the monsoon region, because climate change is an important factor affecting the sustainability of agricultural production and food systems of ASEAN member countries.
In principle, all countries must be actively involved as partners in development with the private sector and international corporations involved in agriculture production for financial resources and agriculture models.
Source: Khmer Times