NGO launches '4Rs' project to reduce use of plastics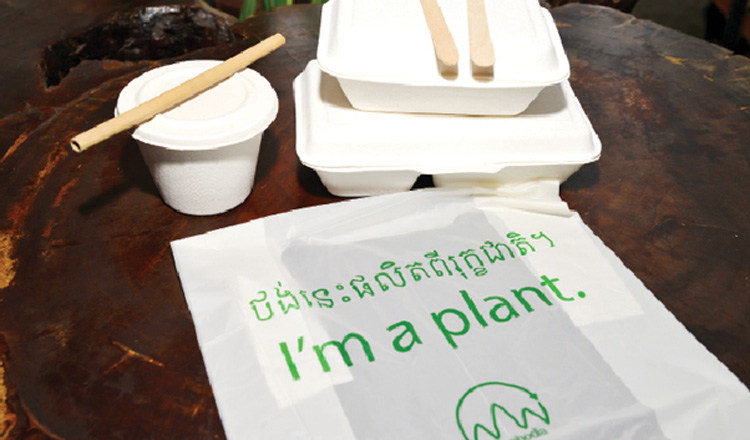 The Youth Resource Development Program (YRDP) aims to educate Cambodians to help the environment by practising the "4Rs" to change behaviours about plastics.
The youth group held a workshop on Sunday to show effective ways people can utilise plastic, in particular, bags.
Pich Money, a member of YRDP, told Khmer Times that this volunteer youth group is working for the environment to promote the practice of reusing plastic bags in daily life and to motivate people to be accountable for managing plastic bags in their lifestyle.
He said the youth group is working on two environment activities. First, a workshop inviting civil society organisations, youth leaders and the private business sector to show how plastic can be used more effectively.
Second, online activities including a video to educate the general public about plastic pollution and how to practice the 4Rs in their daily life.
The 4Rs are to "Reduce" by limiting the use of plastic, "Reuse" by finding additional ways to use plastic already used once, "Refuse" by saying no when offered excess plastic or choosing other options besides plastic and "Recycle" by dividing trash so plastic can be easily collected for innovative reuse by factories.
YRDP started in 1992. The youth are volunteers and earn no money. They work doing research, educating people and motivating private businesses to reuse plastic.
Sron Sreyleak, on the 4Rs Campaign Organising Committee, told Khmer Times on Sunday that: "As we know, we cannot completely stop the use of plastic but we can reduce some by reusing plastic bags."
She said that all Cambodian youth should participate in reducing and reusing plastic. If they cannot educate old people now, they can still educate the younger generation in the future.
People cannot be expected to completely eliminate the use of plastic but everyone can reduce their use of plastic a little, she said.
"For example, I have been using my water bottle since I was in my first year at university and I still use it now," Sreyleak said.
She said that Cambodian youth today know about the environmental effects of plastic pollution, yet they are not active to educate people in the countryside.
There are currently 14 youth in the group who have made it their mission to help the environment by activating the 4Rs campaign for Cambodians to understand the impact they can have by making simple lifestyles choices.
In the future she plans to reach out to a lot of youth and ask them to participate in her group for the benefit of the Cambodian environment, Sreyleak said.
"The Cambodian people are poorly educated about plastic pollution and the environment. So, the 4Rs campaign is very important to us. Cambodia is a developing country and there is a lot plastic waste in its environment," said Ho Bunthoeun, strategic mobilisation and governance manager of USAID Tech for Green Cities at the Institute for Development Impact.
He said that Cambodians have increased their usage of bags and other types of plastic in their everyday life and authorities should pay attention to collect trash from people's houses in the countryside not only in the city.
As a representative of a civil society organisation, he said he has discussed many highly effective plastic pollution solutions with other NGOs and governors.
According to the Ministry of Environment, the current use of plastic has increased dramatically since it was first imported to Cambodia more than 25 years ago. About 10 million plastic bags are used daily in Phnom Penh while the average Cambodian living in cities uses more than 2,000 plastic bags a year.
In Cambodia, a 2019 Fauna & Flora International report said people living in coastal areas use an average of 12 plastic bags per day and about 48 percent of plastic waste is thrown into the sea. The increase in the amount of plastic waste poses a serious threat to the environment, biodiversity, human health and the national economy.
Plastic waste in Cambodia has increased due to population growth, better livelihoods and economic growth, changes in attitudes toward consumption, use of plastic for food packaging or other goods and a lack of knowledge in waste sorting for recycling.
Dumping has increased fivefold from 318,000 tonnes in 2004 to 1.7 million tonnes per year in 2018, according to a report by the Ministry of Environment in 2019.
All landfills in Cambodia will not be able to continue to store solid waste if it continues to grow at the current rate, especially in some large cities such as Phnom Penh, which produces an average of 2,216 tonnes of waste daily, according to a 2018 Ministry of Environment report. Khmer Times