Team ARSAR wins Reverse Innovation programme competition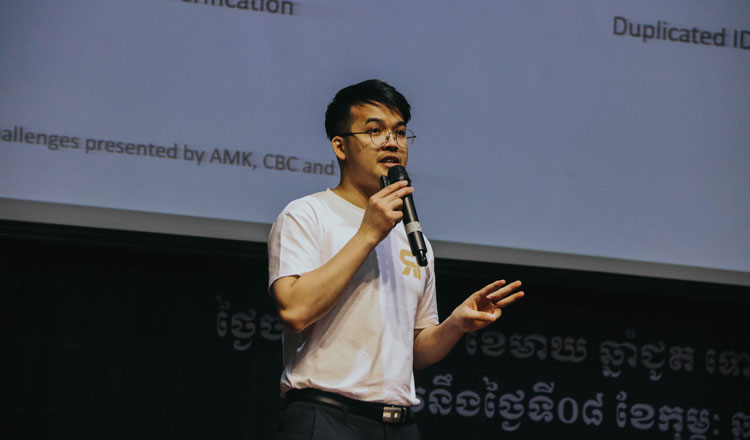 Team ARSAR took home top honours and 40 million riels (roughly $10,000) at the Reverse Innovation (RI) programme's Forward Pitch Day on May 26 – and they're hoping that their blend of artificial intelligence (AI) and blockchain technology will revolutionise identification processes in the Kingdom.
The ARSAR app was developed over the course of five months with mentors from the RI programme at the Techo Startup Center. It compiles different identification documents to create a unique digital identity that could streamline the process of applying for bank accounts and licences that require identity verification.
Team ARSAR responded to the need for an electronic solution that would meet Know Your Customer (KYC) regulations for the authentication and digital onboarding of verified identities, a challenge posed by AMK Microfinance Institution, the Credit Bureau Cambodia and the Cambodian Association of Finance and Technology.
KYC regulations involve verifying the identity of potential customers. In Cambodia, the process can be timely and difficult because of the wide variety of identification documents. Dealing with KYC regulations was the most common topic posed by the seven companies and institutions participating. A total of 11 problems were presented for the competition entrants to address.
On May 6, the National Bank of Cambodia released KYC regulations allowing increased daily transaction limits for those customers whose identity is fully verified. The top end of the transaction limit ($10,000) is available only for customers who register with the bank in-person or online, provide a phone number, a portrait photo and a photo of their National Identification Card or passport.
Sokan Eng, a software engineer at the National Bank of Cambodia, said he and the other members of Team ARSAR created a digital app that could compile all documents into one verified digital identity. The team also includes FinzTrust chief executive officer Huon Linda, Microsoft software engineer Srey Cong Vithyea and legal researcher at Vishnu Law Group Chhoeng Sotheavann,
"We take care of user privacy by not storing any user information on ARSAR. We use blockchain as a distributed ledger and distribute all the information to the end user. The only person that holds the information is you and you have full authority to control it," Eng said.
AI technology is used to scan faces and verify that the person creating the profile matches the documents provided.
Eng said at first, users will need to meet ARSAR representatives in person to set up a digital identity (DID). Once that's done, remote onboarding at banks and other institutions would become possible.
Eng is no stranger to blockchain, having worked as a coder for Bakong, Cambodia's digital payment system, since 2017.
Working virtually, Team ARSAR interviewed government organisations and private companies and conducted a 200-person survey to gauge their project.
Eng said the app is scalable and could also be used to issue and verify university degrees and sell tickets to events that would be tied to the user's identity.
Eng also said the team is working on a "zero-proof concept" that would allow users to confirm parts of their identity without revealing all the details.
For example, a citizen applying for a driver's licence could prove they were over 18 without revealing their actual age.
About the burgeoning startup scene in Cambodia, Eng said allowing young entrepreneurs to take the reins and solve problems is something that could be leaned on in the future.
"There are many problems out there that need to be fixed, given the opportunity, by young leaders, who can join the government in solving problems," he said. Khmer Times