Farmers sigh in relief over improved irrigation system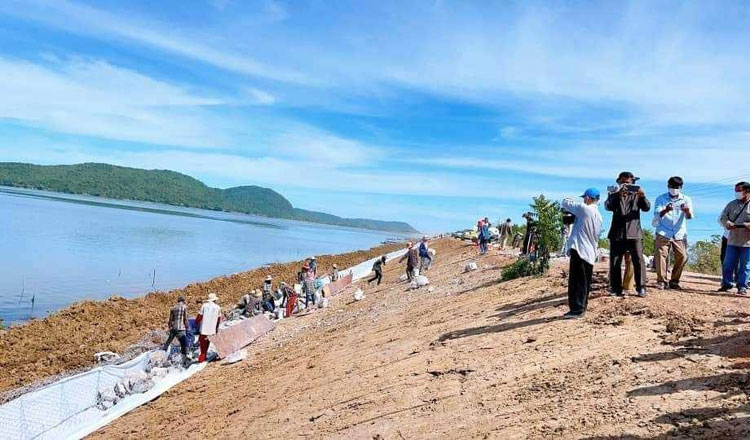 With financial support from the Asian Development Bank (ADB), the government has modernised and improved the irrigation system in Battambang province's Kamping Puoy Reservoir to help supply water to more than 10,000 hectares of land for rice yield production.
The Battambang Provincial Administration's Technical Council for Irrigation Improvement Project chairman Vong Dara said the government improved the irrigation system following a request from the people and also calls from farmers that they face water shortages which affect the cultivation of rice crops.
He said the government through the Ministry of Water Resources improved the irrigation system in Kamping Puoy Reservoir located in Banan district's Ta Kream commune.
Dara said that the improvement of the irrigation system in the Kamping Puoy Reservoir area includes the restoration of canals, the construction of more than 300 sluice gates and the restoration of the Kamping Puoy Reservoir.
"With all these improvements, the farmers will no longer face water shortages for their agricultural crops, even in some remote areas of Banan and Bavel districts. Farmers can now cultivate rice two or three times per season," he added.
He said although Cambodia is still struggling to contain Covid-19, the government continues to improve the irrigation systems in Battambang province, irrespective of whether the projects are small or big as many people rely on farming for their livelihoods.
It was reported in December 2019 that ADB had approved a $119.16 million financing package to help Cambodia improve its irrigation systems in four provinces to help supply water to 43,500 hectares of farmland which will benefit some 290,000 people.
The irrigation systems covered by ADB's assistance, which is comprised of a $117 million loan and a $2.16 million grant from the ADB fund, are Kamping Puoy, Prek Po in Kampong Cham province, Stung Chinit South in Kampong Thom province and Canal 15 in Takeo province. Khmer Times