US is 'steadfast partner' with the Kingdom, FM marks 65 years of Czech relations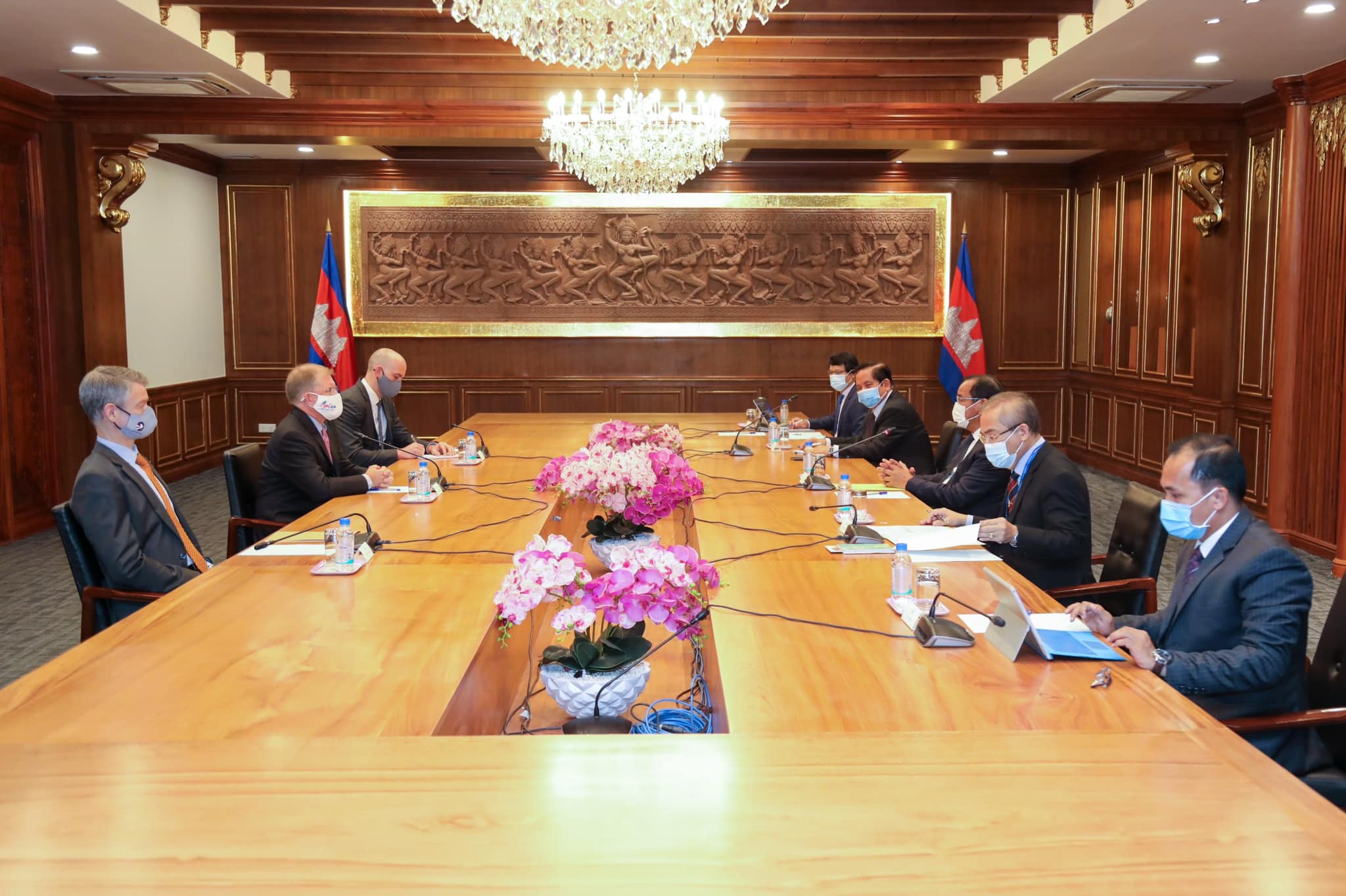 Ambassador Patrick Murphy said that the US has a positive relationship with Cambodia in a meeting yesterday with Foreign Affairs Minister Prak Sokhonn to discuss bilateral and regional issues.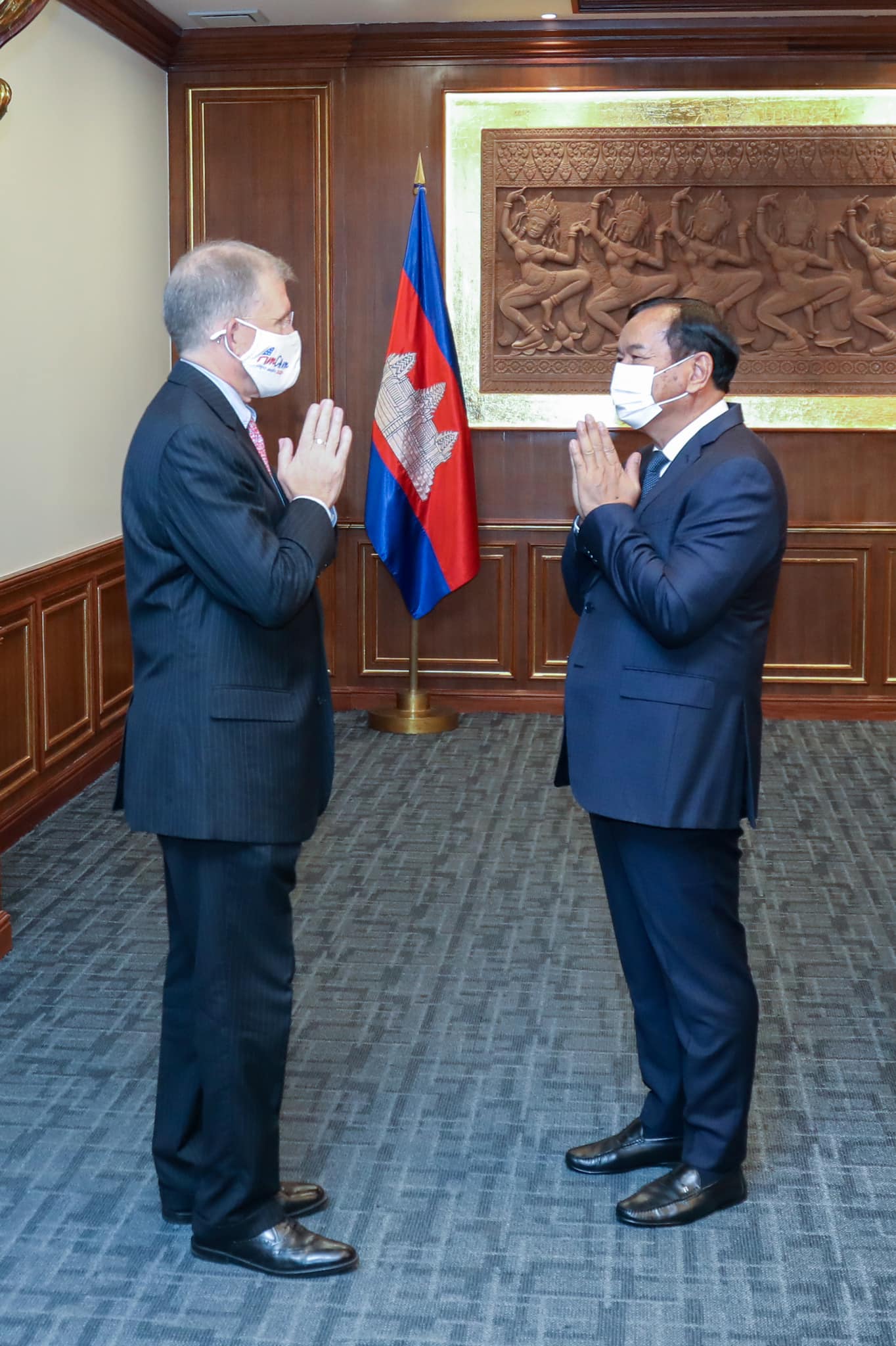 "The United States has been a steadfast partner to Cambodia during the global pandemic, providing more than $11 million in direct Covid-related aid, critical technical assistance building on longstanding health partnerships, and giving over $4 billion – far more than any other country – to the WHO/COVAX Facility, through which Cambodia will receive 1.1 million vaccine doses by the end of May, with more to come after that," the embassy posted on their Facebook page.
The embassy said the US supports the efforts of Cambodia and Asean member states to promote the process of democracy in the region with Myanmar.
"The United States supports the efforts of Cambodia and other Asean member states in promoting democratic processes and institutions and the rule of law in the region, including in (Myanmar)," it said.
"Instability created by the military coup affects the entire region, and Asean countries have an important role to play to help restore (Myanmar's) path toward democracy. We encourage Asean to engage all relevant stakeholders in (Myanmar) in seeking a resolution to the crisis," it said.
Meanwhile, Sokhonn received a courtesy call yesterday from Martin Vávra, newly-appointed Ambassador of the Czech Republic and Foreign Affairs Minister Jakub Kulhanek.
Sokhonn said that he was pleased to celebrate the occasion of the 65th anniversary of the establishment of diplomatic relations between the Kingdom and the Czech Republic.
He said: "I am delighted to note that the long-standing friendship and close cooperation as mutually aspired by our two nations sixty-five years ago has not only withstood the best of times and changes in the regional global landscapes but has witnessed growth and born fruits."
One reason the two countries are so close is that King Norodom Sihamoni spent most of his childhood in Prague where he studied classical dance and music at the National Conservatory and he is fluent in Czech.
Another interesting illustration of the cultural relationship between the Czech Republic and Cambodia is a photo that depicts President Novotny congratulating Princess Norodom Buppha Devi, daughter of then Prince Norodom Sihanouk, for her leading role in a Royal Ballet performance.
"However, the past is just a springboard for a common future that we want to focus on. And we, Czechs, who live and work in Cambodia, we know well that Cambodia is a country of friendly people," Kulhanek said.
The Czech Republic took part in the restoration and preservation of Cambodian cultural heritage at Angkor through the provision of training on preservation techniques to technical personnel of the Apsara Authority.
They also helped with the restoration project of lion and elephant statues at Phimeanakas temple.
Foreign Affairs Ministry spokesman Koy Kuong did not respond to requests for additional information about the meeting.