Garment Workers Get Their Second Dose of Covid-19 Vaccine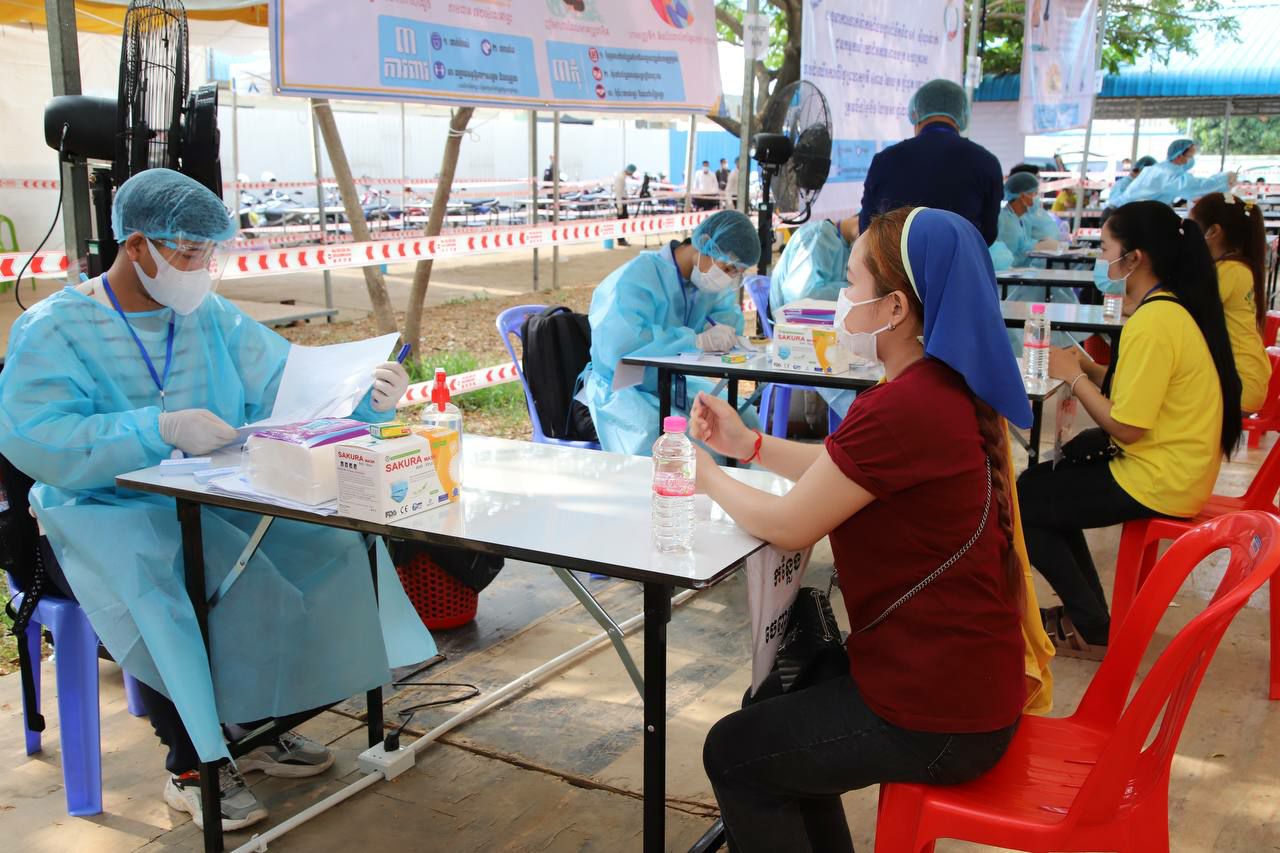 The second dose of the COVID-19 vaccination for all workers and staff of garment factories in Phnom Penh kick-started on Sunday amid the two-week lockdown and curfew with them either confined to their houses or rented rooms.
The Ad-hoc Worker/Employee Covid-19 Vaccination Sub-committee of the Ministry of Labour had arranged for the workers and staff to take their second dose at designated locations where they lived, namely in Canadia Industrial Park and ISI Industrial Park, both in Porsenchey district.
"From Sunday, the workers and staff will get their second dose at these two locations," said Labour Ministry spokesman Heng Sour.
He added that the ministry's Ad-hoc sub-committee will also facilitate the COVID-19 vaccination for workers in other districts.
The medical team who gave the first dose of the vaccine at the factory locations have also started giving the second dose to the workers and employees at the same sites, starting Sunday.
Sour said the same location sites are for those residing near their workplaces.
Workers and staff living in other districts of Phnom Penh or districts of Kandal province who took their first dose but are unable to come for their second dose due to travel ban or staying at provinces are advised to contact the Ad-hoc sub-committee to set new locations for their second dose.
The Ministry in its statement also advised all those who took their first and second dose of the COVID-19 vaccination to strictly adhere to preventive measures by continuing to wear face masks, practice social distancing and keep away from crowds or large gatherings to prevent getting infected with the deadly virus.
Chou Sary,30, who works in a garment factory -Unit (Cambodia) in Kandal province, said that she been staying at home due to the factory closure and is awaiting for the situation to improve and also to get herself vaccinated.
She also asked all workers who have not got their COVID-19 jab to get themselves vaccinated as advised by the government.
"Before Khmer New Year, I heard that people can register for the COVID-19 vaccination. I am not sure if the project is still on or what is the latest development as I have not left my house ever since the lockdown," she said.
The first phase of the COVID-19 vaccination campaign ended on April 16 with some 88,000 workers and staff, including 3,700 foreigners, receiving the first doses.