South Korean Bank Invests in Cambodia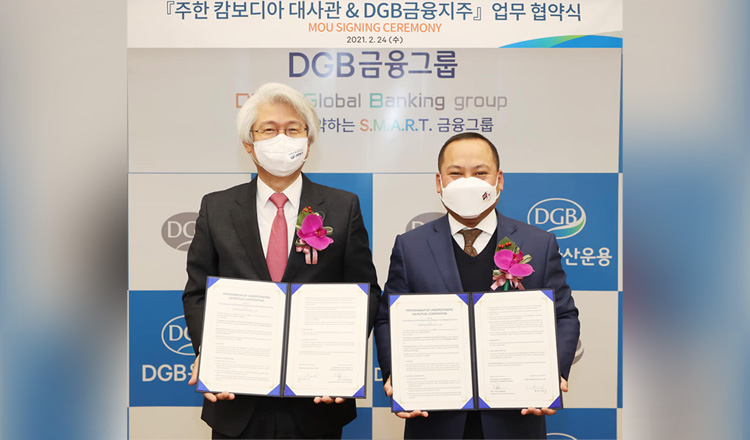 The embassy of Cambodia to the Republic of Korea signed a memorandum of understanding (MoU) with DGB Bank to provide cooperation in promoting investment in Cambodia as well as protection for Cambodians in South Korea.
The MoU also encompasses opportunities for Cambodian students to complete internships at the DGB Bank.
Long Dimanche, the Cambodian ambassador to South Korea, said DGB is one of the biggest banks in South Korea and so far has eight branches in Cambodia.
He said the bank will expand its business portfolio in the financial sector in Cambodia because they found that Cambodia is a peaceful society with political and economic stability and security which would secure their investment.
"They [DGB Bank] said that Cambodia has economic and investment potential especially for the post COVID-19 era. Therefore, it is looking at expansion and support from the embassy of Cambodia in South Korea is important," Dimanche added.
According to Dimanche, DGB Bank asked for support and facilitation from the embassy of Cambodia in Korea as well as investment help. Their needs are aligned with the Cambodia Economic Diplomacy Strategy 2021-2023.
He added that, based on the MoU, DGB will also study lowering interest rates for Cambodian people or Cambodian migrant workers who living and use DGB services in South Korea. Dimanche added that the bank will also assist in training Cambodian students in the financial sector.
"Regarding our support to the private sector, especially DGB Bank, we will facilitate everything for their investment or businesses in Cambodia," he went on to say.
In early February this year, Cambodia and South Korea announced the conclusion of negotiations towards a free trade agreement. It aims to strengthen economic partnership and further liberalise bilateral trade between the two economies, creating economic and social benefits for the people and businesses of both countries.
Furthermore, the two nations believe that this important bilateral agreement can help facilitate a swift economic recovery for the two countries from the impact of the COVID-19 pandemic.
Minister of Commerce Pan Sorasak said both countries will now prepare to complete the necessary domestic procedures towards the signing of the agreement – tentatively targeted for the middle of 2021.
In January 2021, the Ministry of Foreign Affairs announced an economic diplomacy strategy 2021-2023, focusing on boosting the economy, culture and tourism in Cambodia.
This economic diplomacy strategy has four major goals: promoting international trade, attracting foreign direct investment, promoting tourism and promoting cultural exchanges.