Cambodia and Philippines Further Strengthen TVET Relations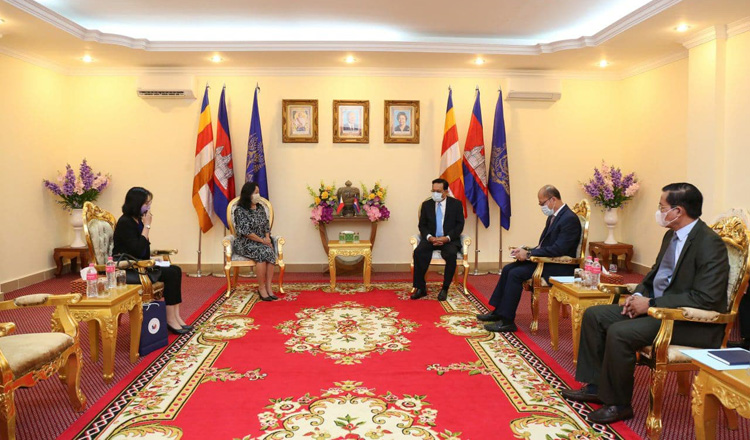 Cambodia and the Philippines announced yesterday that they will continue working to finalise the draft Memorandum of Understanding (MoU) on technical and vocational education and training (TVET), despite the threat of COVID-19.
The commitment came after a meeting between Minister of Labour Ith Samheng and Ambassador of the Philippines to Cambodia Maria Amelita C Aquino, held at the ministry yesterday.
Labour Ministry undersecretary of state Nguy Rith said both sides discussed the draft MoU on TVET and both pledged to complete it as soon as possible.
"Even though COVID-19 continues, both sides will push this work for technical teams to work together online in order to sign the MoU as soon as possible," he said.
He added that the aim of the draft MoU is to provide knowledge and skills as well as share experience and professional skills, especially for migrant workers who need to integrate in the country and learn new skills for local job opportunities.
According to the ministry, the two countries have a lot of work to do together and the two governments are focussing on supporting and helping each other protect their citizens as well as migrant workers.
It said the Philippines is a highly experienced country and it has many embassies throughout the world, as well as an Office of Migrant Workers Protection in almost every country in the world. There are also many Filipinos working abroad who can share a lot of knowledge and experience as well as provide support to Cambodian migrant workers.
"Both sides have agreed to help each other when Filipinos or Cambodians in other countries do not have an embassy," it added.
Ambassador Aquino expressed her appreciation for the Cambodian government in the meeting, for providing good protection and supporting the nearly 5,000 Filipinos who stay and work in Cambodia, where they enjoy the same protections and benefits as Cambodian workers.
She said that recently, around 800 Filipinos received support from the Cambodian government to return home safely due to the COVID-19 pandemic.
On Tuesday, she had a meeting with the Minister of Foreign Affairs Prak Sokhonn.
According to a ministry statement, both sides agreed to speed up the bilateral negotiations toward the completion of the Agreement on the Avoidance of Double Taxation in order to increase their two-way trade and investment.
The minister asked Aquino to encourage more investors to invest in rice silos and mills for export to the Philippines, and told her of the preparation for the 3rd Cambodia-Philippines Joint Commission for Bilateral Cooperation (JCBC) Meeting this year as well as the direct flight resumption between the two countries after the COVID-19 pandemic eases, to boost their tourism and investment sectors.