IMF Praises Government, NBC Over Pandemic Action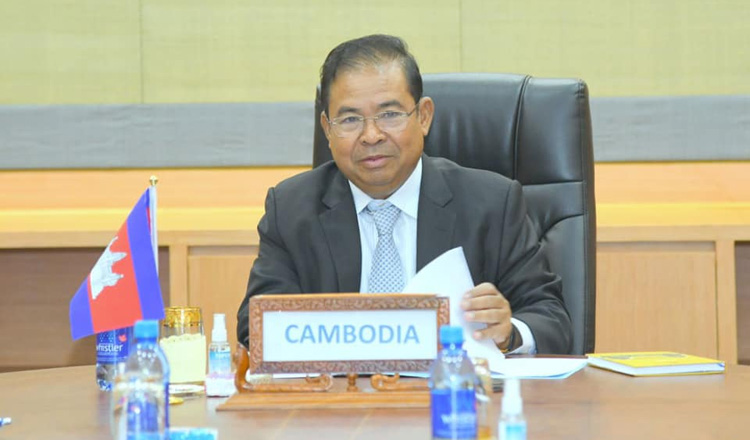 The IMF Mission praised the measures taken by the government and the National Bank of Cambodia (NBC) to respond quickly, timely and appropriately to prevent the spread of COVID-19 in Cambodia and to support business activities against its socio-economic impact, especially on vulnerable people.
Chea Chanto, governor of the NBC, attended a meeting with the International Monetary Fund (IMF) staff visit team led by Alasdair Scott, IMF country director for Cambodia to discuss the outcome of the mission in Cambodia, which was held virtually from Jan 15 to Feb 19.
The IMF praised the Cambodian government, which has shifted its fiscal policy direction to priority areas and the NBC, which has rapidly reduced its reserve requirements and issued guidelines to facilitate loan restructuring.
The IMF Mission agreed with the assessment by the Ministry of Economy and Finance and the NBC on challenges, the risk situation and the macroeconomic outlook for the Kingdom.
The IMF pointed out that for Cambodia, external demand is uncertain, but the mission is optimistic about growth in key sectors of the nation's economy, especially manufacturing, while tourism will recover slowly.
The mission praised the strength of the banking sector despite the pressures of the economic downturn in 2020 and expects it to continue to play an important role in maintaining financial stability and contributing to macroeconomic stability and supporting growth in the post-crisis economic recovery phase.
Overall, the IMF recommends that countries affected by COVID-19 should prioritise public health issues and set up measures to prevent the spread of COVID-19, provide supportive policies, fiscal and monetary adequacy and to avoid the withdrawal of these supportive policies too soon. They should continue to maintain financial stability and monitor the risks of the financial system and the impact on – and potential stimulus – for economic growth.
The IMF Mission also praised the effective and targeted use of technical assistance provided by the NBC from the IMF. Therefore, the IMF will continue to provide technical assistance as well as further capability building in order to strengthen the resilience and development of the Cambodian banking sector.