Preparing for a new stream of tourists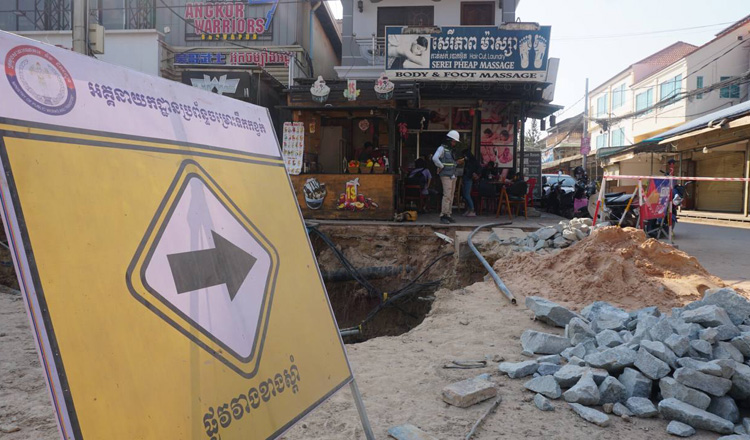 The drying up of Siem Reap's tourist business has resulted in such a profound loss of revenue at the Siem Reap Water Authority that it has been forced to supply water at a loss, according to a source familiar with the matter.
The city has been hard-hit by the COVID-19 pandemic leading to drastically reduced commercial consumption. Some 40 percent of SRWA's clients are commercial enterprises and that revenue traditionally helped subsidise water costs to the city's residents.
The autonomous commercial utility company's tariff rate places the bulk of the expense burden on businesses to ensure that financially vulnerable families can access safe, drinkable water. It currently costs the firm about 44 cents to deliver one cubic metre of water to users. A cubic metre is the equivalent of 1,000 litres.
Since inbound tourists stopped visiting, SRWA has experienced revenue drops of between 40 and 60 percent monthly.
The firm has allocated its profit previously for maintenance, daily operations and investment in new projects. Currently, only about 30 percent of Siem Reap's population has access to potable water, according to official figures.
The firm's objectives beyond profit include ensuring that residents have an adequatet water supply. It has also limited its use of groundwater to help preserve the structural integrity of Angkor Wat, instead sourcing costly surface water from distant locations.
One of its initiatives is the $100 million Tonle Sap project, which will source and treat water from some 50 kilometres away, then distribute it via a 200km "loop" system surrounding Siem Reap's core.
Because Siem Reap is sparsely populated and surface water is relatively far away, the cost to implement such projects is costly and results in modest returns.
However, this project will grow the authority's capacity by 90,000 cubic metres daily once complete in 2022 with the water needs of the city being met until 2030, provided that distribution networks can accommodate the new supply.
Siem Reap's past severe water shortages, particularly during the peak of the tourism season resullted in some hotels relying on in-house water treatment facilities, which in turn, hurt SRWS's revenue.
As the city eagerly awaits the return of foreign visitors, it is using the lull in tourism to bolster its infrastructure for when tourists return.
The 38 roads project, which encompasses 108 kilometres of construction is currently underway. The city is also moving ahead with the building of the $880 million Angkor International Airport, which is expected to be complete by 2023. Khmer Times