Domestic vanilla planting taking root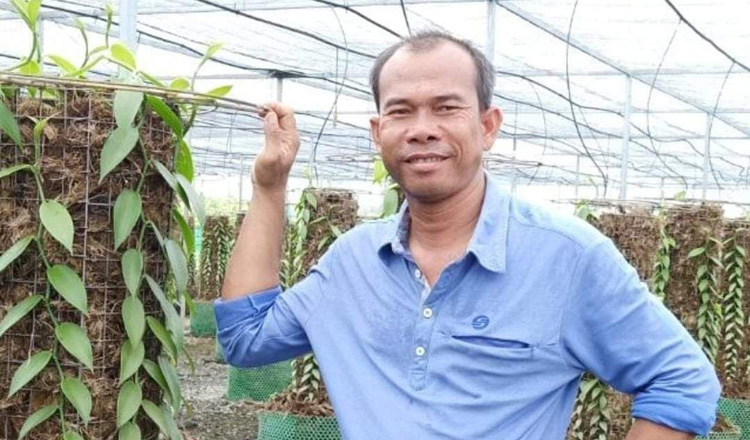 Agriculture brought the Kingdom $4.037 billion in exports alone during 2020. Products grown included cassava, mangoes, bananas and peppers among many other agro-products. However, farmers are now branching out to less common but more profitable crops – and vanilla is among them.
The podded plant, regarded variously as a spice or herb and used in flavouring is one of the costliest food plants in the market after saffron because of the extensive labour required to grow, harvest and cure vanilla beans.
It grows with the support of the bark of trees as a tropical climbing vine that is part of the orchid family. Vanilla plants deliver their first yield three years after planting and continue to provide yields for 12 to 14 years.
It is rare to find farmers growing the plant in Cambodia, although, a handful of farmers in the Kingdom are cashing in as prices of vanilla are recently averaging $350 per kilogramme. The global vanilla market was valued at $866.6 million in 2020 and farmers in the Kingdom want their slice of the profit pie.
When producing the plant outside Mexico, vanilla must be hand-pollinated. This is because Mexico is the only place in the world home to a specific bee that pollinates vanilla orchids. Despite this advantage, Mexico is not the biggest supplier across the globe.
In the late 1800s, the Mexican vanilla industry shut down for several years as a revolution raged throughout the region. This was immediately followed by the development of the petroleum industry in the Gulf of Mexico. The hardwood forests were cut down and gas lines run to Mexico City. In 1900, ninety-seven percent of Mexico's original tropical forest covered the region. By 1960 less than 5 percent of that forest was left and Madagascar had become the largest producer of vanilla worldwide.
Cambodian farmers are able to cash in on vanilla crops, because, as with many other plants, the Kingdom provides the perfect climate.
Vanilla requires warm and humid conditions for its growth. The crop also requires a well-distributed annual rainfall of 150 to 350 cm. A temperature range of 25 degrees Celsius to 34C is best for vanilla cultivation.
Although the conditions in Cambodia are good for growing vanilla, there are still fewer than 10 known active farms throughout the country.
Simon Miller, co-owner of Asian Orchids, explained that he started a farm-growing mangoes but when he realised how much of an opportunity there was in growing vanilla, he decided to use part of his land to start producing the profitable flower.
"Growing up and working as a chef gave me knowledge of different foods and spices. I was always interested in knowing where things were produced. When my business partner and I realised that we had the right conditions to start growing vanilla we got straight to work on educating ourselves on every aspect of the product," Miller said.
"We started with 1,300 square metres to produce around 300kg of dried vanilla. We will expand this project hectare-by-hectare, increasing our production sustainably and promoting fair-trade practices while providing local families with employment," Miller said.
Although these vanilla farms are starting to become more popular in Cambodia, 80 percent of the product is being exported.
Erin Axelle, a local supplier of vanilla, explained that there is a downstream need for vanilla in the Kingdom but people are still using artificial product instead.
"The vanilla I distribute sells for around $8 for 10 grammes. Some of the businesses I supply are bakeries, ice cream parlours and gelato shops. They are the ones who buy in bulk because it is a key ingredient for many of their products."
Demand is growing, however, many people are not aware of what true vanilla actually is. Some still choose an imitation because it has a stronger smell and is cheaper in price compared with the real one. I believe the vanilla here will continue to be mainly exported," Axelle concluded. Khmer Times