Cambodia's UN rep explains steps to address prison overcrowding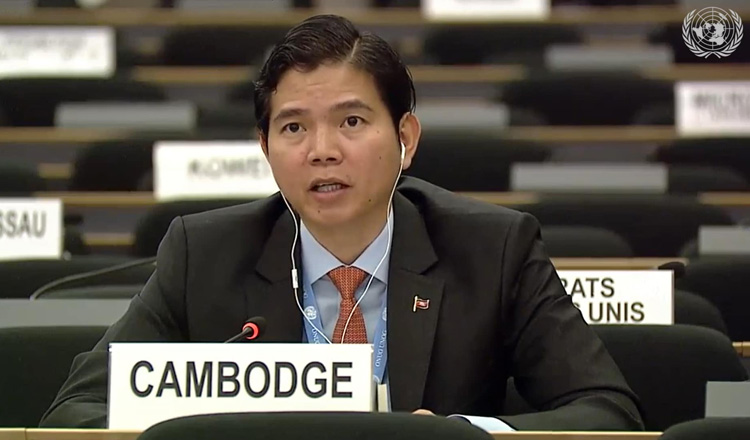 The Cambodian Permanent Mission to the United Nations office in Geneva has said a large number of cases and a limited number of judges are mainly responsible for overcrowding in the country's prisons.
Cambodia's Ambassador and Permanent Representative to the United Nations An Sokkhoeurn said this during the 44th Session of the Human Rights Council Annual Panel Discussion: Technical Cooperation and Capacity Building under the theme, "Upholding the human rights of prisoners, including women prisoners and offenders," held last week, which was released by the Permanent Mission on Saturday.
Sokkhoeurn also said Cambodia recognizes the role of the Office of the High Commissioner for Human Rights (OHCHR) in Cambodia in offering technical assistance and capacity building, which are instrumental in strengthening national institutions in the fulfillment of human rights obligations, including the office's prison support program.
"In Cambodia, lengthy pre-trial detention and overcrowded prisons are a direct consequence of a large number of cases and a limited number of judges, prosecutors, and defense attorneys," he said. "Despite our resource constraints, Cambodia has introduced many concrete solutions and initiatives in line with the law to address the above-said challenges."
Sokkhoeurn also mentioned the six-month campaign to resolve a backlog of court cases across the country which was initiated by the Ministry of Justice in May, the establishment of Prime Minister Hun Sen's special legal team to provide free legal aid to poverty-stricken women, as well as the setting up of appeal courts in provinces.
"The Ministry of Justice also devised a long-term plan and strategy stipulated in our legal and judicial reform program to address other related issues. They include, inter alia, the establishment of mechanisms to enforce alternative sentencing, modernization and digitalization of case registration and management, creation of special courts and regional appeal courts and expansion of legal aid budget," he said.
Ministry of Justice spokesman Chin Malin said on Thursday that since the campaign was launched, around 3,500 of nearly 40,000, or 25 percent, of targeted court cases have been cleared.
"Among measures already taken are the formation of three regional appeal courts, budget boosts for the support of victimized women and girls and increased legal aid schemes," Sokkhoeurn said. "A mental health rehabilitation center was also inaugurated in 2019 and the Cambodia Human Rights Committee set up free legal counseling hotlines to promote access to justice for vulnerable people."
He said the government is committed to protecting the rights of people deprived of liberty in line with the human rights obligations and based on its capacity.
Despite Cambodia reporting no COVID-19 spread among inmates, the Interior Ministry's General Department of Prisons last week raised concerns that the overcrowding of detainees poses a risk of cluster infections.
The department said currently, there are around 40,000 detainees in prisons and only 30 percent of them have final verdicts in the court cases.
It noted that based on the United Nations standards, Cambodia should have a maximum of 70,000 square meters of total space to house detainees.
Kin Phea, director-general of the Royal Academy of Cambodia's International Relations Institute, yesterday agreed with the statement made by the Cambodian Permanent Mission.
However, he claimed that one more point to add is that some cases may have been overlooked since they were not beneficial to the judges.
"It's often said that a case is heard rapidly only if the concerned parties closely work with judges and/or prosecutors. I'm not sure if it's true since we don't have a proper study on that," Phea said. "It's important that all cases are processed in a timely manner, in which judges and prosecutors fulfill their duties as prescribed by laws and regulations. Irregularities in the court process, as often raised by the public, should be carefully considered."
"The appointment of judges and prosecutors to provinces and municipality should be done by making sure there is no surplus in some provinces and a shortage in others," he added.