Rubber exports stretch 17%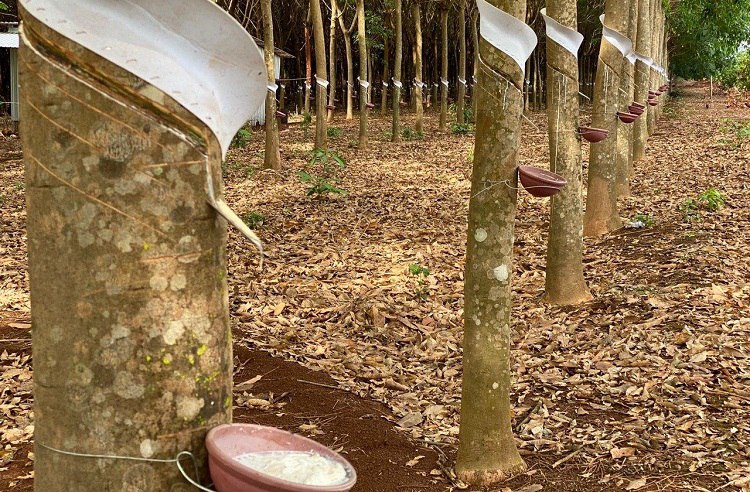 Cambodia exported 97,175 tonnes of natural rubber in the first five months of this year, surging 17% compared to the same period last year as the Covid-19 pandemic stretches on, Ministry of Agriculture, Forestry and Fisheries official Khuong Phalla told The Post on Thursday.
Phalla, who is the director of the General Directorate of Rubber's Department of Administration and Legislation under the ministry, said the average per-tonne value of the exports during the first five months of this year was $1,314, but just $1,193 in May, which he said was up $5 or 0.42% from $1,188 in April.
A ministry report, however, said the average per-tonne value of exports was $1,192 in April, which was down 12.67% year-on-year from $1,365.
"We have not yet seen a significant change in demand for natural rubber due to the Covid-19 disease . . . rubber prices are not yet showing signs of a revival," Phalla said, adding that China remains a major market for the Kingdom's rubber.
He said a total of 250,107ha have been harvested, out of the 406,142ha of natural rubber trees planted in the Kingdom.
Heng Sreng, the general manager of rubber producer and exporter Long Sreng International Co Ltd, told The Post that his company exported a lukewarm 1,750 tonnes of rubber during the period to the Chinese and Vietnamese markets.
He said the export price of rubber was between $1,100 and $1,300 per tonne during the period. "Our exports performed as usual – we exported around 350 tonnes a month and the price of rubber did not change significantly."
Long Sreng International owns the Boeung Ket Rubber Plantation in Stung Trang district's Prek Kak commune in Kampong Cham province.
The government in March reduced taxes on rubber exports to minimize the impact of a fall in the international price of the commodity.
A sub-decree signed by Prime Minister Hun Sen on March 8 stipulates that exports of rubber valued under $1,400 per tonne are not taxable. Shipments valued between $1,400 and $3,500 per tonne will be taxed $25 to $200 per tonne.
Cambodia exported 282,071 tonnes of rubber last year, up 30% from 217,501 tonnes in 2018, ministry data show. The exports were valued at $377 million last year, up 32% from $286 million in 2018.
Latex prices will continue to decline until next year, said a report by Research and Markets. China is the world's largest rubber consumer, accounting for 41% of global total output. Phnom Penh Post