E-Learning moves to TV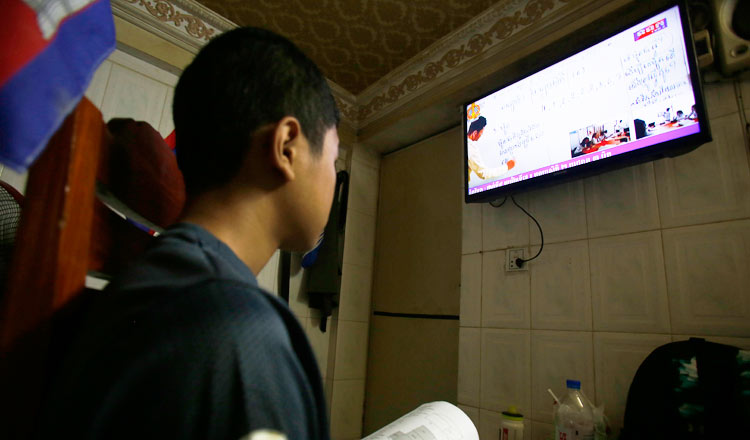 The Education Ministry yesterday started airing distance learning progra- mmes or e-Learning on the National Television of Kampuchea and some cable TV channels for students in the capital and provinces throughout the country.
Education Minister Hang Chuon Naron announced yesterday the launch of the TV programmes was carried out following an instruction by Prime Minister Hun Sen to support the education of all students in kindergarten, primary and secondary school levels while schools are temporarily closed to contain the spread of coronavirus.
Mr Naron said the e-Learning programmes will be aired on TV networks, such as a newly created TVK2 for educational broadcasting, Decho DTV's channel 22, and 55 new cable television networks.
"The airing of the educational videos on these television channels will be done 24 hours a day," he said. "The live feeds will be aired from 8am to midnight, while repeat broadcasts will run from midnight to 8am.
Mr Naron said students in Grades 9 and 12, who will sit for the upcoming national examinations, will be able to watch three hours of the programmes each day.
The Education and Information ministries signed a Memorandum of Understanding on April 8 to produce and disseminate e-Learning programmes to ensure rural students can get the same quality education as urban students during the closure of schools.
"The collaboration [between the two ministries] is to enrich and improve the provision of education with quality, equity and inclusivity through effective self-learning and distance learning programmes for all students," Mr Naron said.
Education Ministry spokesman Ros Soveacha said yesterday the launch of the e-Learning progamme went smoothly.
"The Education Ministry expects that students in urban and rural areas throughout the country will continue to study through these learning programmes to respond to the current learning needs," he said.
According to the Ministry of Education, in addition to airing learning programmes on television, the Ministry of Information is also creating a feature in the ministry's app through which students
can get access to e-Learning videos suited for their respective levels, subjects and lessons.
In addition, students can watch videos on three digital education platforms the Ministry of Education has organised since March through Youtube, Facebook and e-Learning centres.
They can also learn through downloading videos from e-School Cambodia and Wiki School Apps.
El Vanda, a Grade 12 student at Hun Sen Ta Kok high school in Prey Veng province, said yesterday following the closure of schools she is studying at home using her textbooks.
"Since school was postponed, I have been studying on my own through textbooks for three to four hours a day. I also spend some time
for review at night as I have to help with my parents' business," she said. "However, now that the ministry has a teaching programme on TV, I can use it to study."
Keoun Phirun, a Grade 12 student at Preah Bat Norodom high school in Prey Veng province, commended the introduction of learning programmes through various avenues.
However, he adding that e-Learning is more difficult compared with traditional learning due to several problems, such as the slow internet service in his area.
"Learning through television may also be difficult sometimes as I don't have teachers to ask to explain," Mr Phirun said. "However, I will try my best to study through the e-Learning programmes the ministry has set up."
Credited: Khmer Times