Mandatory self-quarantine for returning migrant workers must continue: Sar Kheng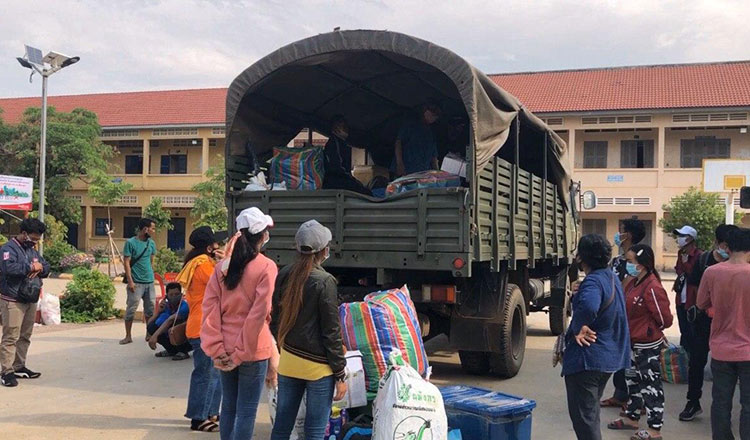 Minister of Interior Sar Kheng yesterday called on local authorities to continue imposing mandatory 14-day self-quarantine for all inbound passengers coming from abroad, particularly migrant workers returning from Thailand, in a bid to prevent further spread of the coronavirus.
Speaking at an event at the Interior Ministry yesterday, Mr. Kheng said: "We must continue to strictly enforce the government's preventive and containment measures. Local authorities should continue tracking people coming in from foreign countries, especially the migrant workers, and impose compulsory quarantine on them for 14 days."
He noted the Kingdom has had zero COVID-19 deaths since the global pandemic began and must be kept as such.
Apart from acknowledging the efforts of local authorities, Mr. Kheng also thanked Interior Ministry officials who voluntarily agreed to cut their wages to be allocated to projects that focus on combating the COVID-19. "I want to thank our officials who agreed to the wage cuts. Some of the cuts will apply for two to three months while others will last for six months."
"Provincial authorities have also decided to allocate parts of their budget to COVID-19 initiatives in their locality, in addition to donations collected from charities and fundraising campaigns," he said.
City governor Hil Raya of Banteay Meanchey province's Serei Saophoan city, appealed to the public to observe self-quarantine and refrain from inter-provincial travel during Khmer New Year.
Mr. Raya noted provincial authorities have already designated and prepared quarantine sites in the province, with health workers on standby.
Dara Samnang, a migrant worker returning from Thailand to Takeo province, said he has fulfilled his 14-day quarantine period and can now freely interact with his family.
"I quarantined myself for 14 days, after which I went in for a checkup and was found negative for the coronavirus. Now, I can meet my wife and daughter without fear of infecting them," he said.
Prime Minister Hun Sen last month appealed to local authorities to stay vigilant in tracking and quarantining the 50,000 migrant workers who recently returned from Thailand.
As of today, the Kingdom has reported 122 COVID-19 cases, with 77 recoveries. Khmer Times