Conservationist Receives $20K Grant for Wildlife and Land Preservation Efforts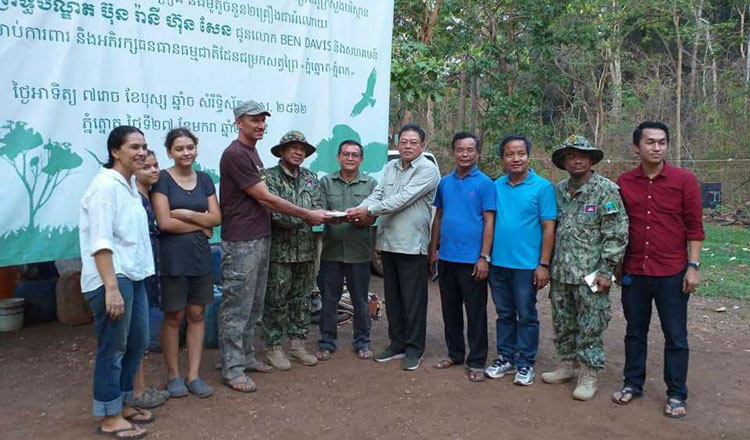 The Ministry of Environment last week granted $20,000 to American conservationist Ben Davis to aid in his efforts to protect and preserve natural resources in Preah Vihear province's Phnom Thnout-Phnom Pok Wildlife Sanctuary.
Environment Ministry spokesman Neth Pheaktra said yesterday the budget was given following the recommendation of Cambodian Red Cross president Bun Rany.
"This is the second year the ministry has given him [Mr. Davis] $20,000. The money will be used to operationalize his conservation project in the Phnom Thnout-Phnom Pok Wildlife Sanctuary."
"His project mainly focuses on developing eco-tourism through community organization, expansion of infrastructure and wildlife conservation," said Mr. Pheaktra, noting the collaboration between the ministry and Mr. Davis is crucial to the attainment of sustainable development.
Beginning last year, the Environment Ministry, through the Environment and Social Fund, pledged to provide $100,000 to
Mr. Davis over the next five years to support his conservation efforts in the sanctuary.
Mr. Pheaktra furthered: "The ministry's goal is to conserve natural resources and wildlife and develop eco-tourism hubs in the Kingdom to create livelihoods for residents. The cooperation of Mr. Davis lends significant and positive results to this goal."
Mr. Davis, who is the founder of Preah Vihear's nature reserve BeTreed Adventures, said in addition to the $20,000 grant from the government, he also received donations from a tycoon and several citizens totaling $27,000 and a motorbike to aid in his conservation efforts.
The budget, he said, is currently being allocated to the construction of roads in the community spanning 20 kilometers and digging of six ponds to keep wild animals hydrated, among other projects.
"I would like to thank the government, the Ministry of Environment, as well as the citizens who donated money to support our cause," Mr. Davis said.
A report from the Ministry of Environment stated the Phnom Thnout-Phnom Pok wildlife sanctuary spanning Preah Vihear and Siem Reap provinces covers an area of 42,097 hectares. Of these, more than 7,000 hectares of land is being protected and preserved by Mr. Davis, with the permission of the ministry. Khmer Times