First Shipment of Face Masks Donated by HOdo Group, Developers of the SSEZ Arrives in Cambodia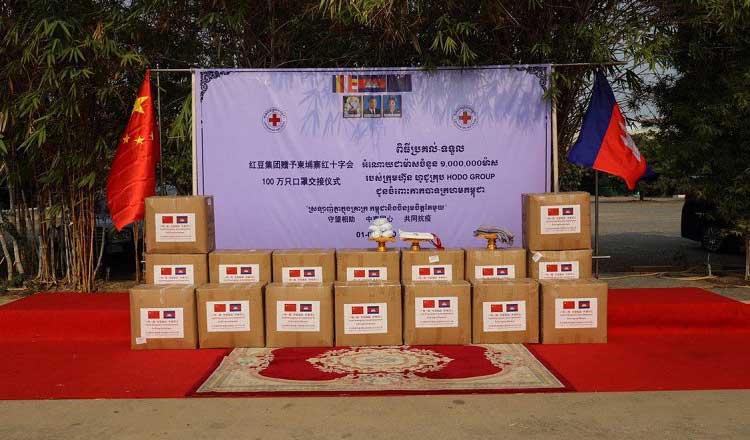 The first shipment of 200,000 face masks donated by HOdo Group, a Wuxi-based textile and garment giant in China's Jiangsu province and Chinese Controlling Stakeholder of Sihanoukville Special Economic Zone, arrived in Cambodia.
The handing-over ceremony at the headquarters of Cambodian Red Cross (CRC) in Phnom Penh was done in the presence of CRC Vice President . Mrs. Any Sok An and Mr. Cao Jianjiang, Chairman of Board of Sihanoukville Special Economic Zone.
This is the first shipment of the one million face masks donated by the HOdo Group to CRC to contribute to preventing and containing the spread of COVID-19 pandemic in Cambodia.
Mrs. Any Sok An thanked the Sihanoukville Special Economic Zone and HOdo Group for humanitarian assistance to Cambodia.
"Cambodia and China are good and true friends. Since the outbreak of COVID-19 in Cambodia, the Chinese government and people have provided assistance, dispatched medical teams, and donated medical supplies to Cambodia," she recalled.
Face masks donated from the HOdo Group are the basic stuff that the Royal Government of Cambodia is in urgent need for the time being, Mrs. Any Sok An said.
Mr. Wu Guoquan, Counsellor for Economic and Commercial Affairs at the Chinese Embassy in Cambodia, said that the contribution of Chinese government, companies and investors to Cambodia reflects the strong ties between the two nations.
Zhou Haijiang, Chairman of the Board and CEO of HOdo Group, said last week that the Group will continue paying attention to the COVID-19 situation in Cambodia as well as contributing to enhancing the relationship between Cambodia and China to a new level. AKP