PM Calls for Repayment Reprieve for Suspended Garment Workers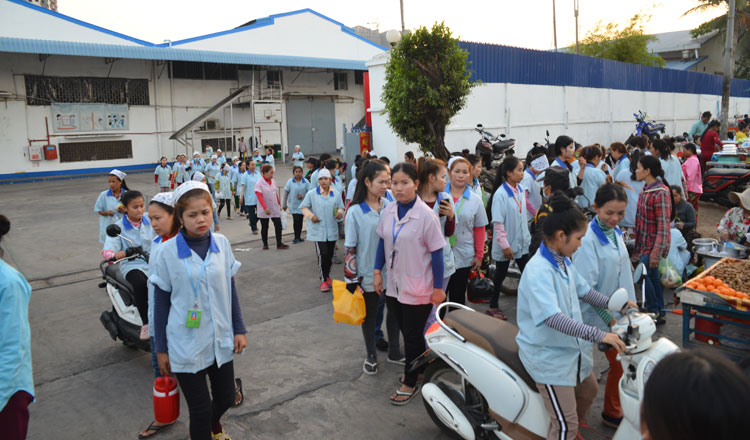 Prime Minister Hun Sen has called on the nation's micro-financial institutions and commercial banks to consider the suspension of loan repayments from garment workers who are being affected by the suspension of factories because of the COVID-19 outbreak.
Speaking at the inauguration ceremony of National Road 55 in the Pursat province, the request was made after many garment factories have suspended production because of impaired supply chains. The raw material shortages have caused havoc for the garment sector and resulted in many workers receiving partial or suspended salaries.
"Micro-financial institutions and banks should suspend either total loan payments or the interest component of these repayments for garment workers who are in financial difficulties. They face job suspension so should be helped with some form of loan suspension too," Mr. Hun Sen said.
The suspension is to ease the difficulties of garment workers during this hard time, Mr. Hun Sen added.
Although a cargo of 60 containers filled with raw materials is due to arrive in the Kingdom on Monday, temporarily easing the shortage caused by the virus halting the supply chain from China, the Ministry of Labour spokesman, Heng Sour, said recently that there could still be disruption ahead.
The Association of Banks in Cambodia and the Cambodian Microfinance Association have expressed strong support for the measure and also requested that banks and financial institutions continue to provide loans to small and medium enterprises (SMEs) affected by the virus.
"Banks and financial institutions should actively continue providing loans to these priority sectors, as well as tourism-related businesses and the construction, garment, and footwear sectors," the joint statement read.
The statement continued, "Banks and financial institutions should exercise flexibility in dealing with loan repayment issues for customers affected by COVID -19. They should also continue to take necessary actions to protect their employees to ensure clients can continue to depend on the reliability and sustainability of banking services."
Some 2.1 million Cambodians use the services of a microfinance institution, borrowing a combined $7.5 billion in 2019, almost a 30 percent increase on the previous year, according to the Cambodian Microfinance Association. Khmer Times