S. Korea to Continue Aiding Cambodia's Development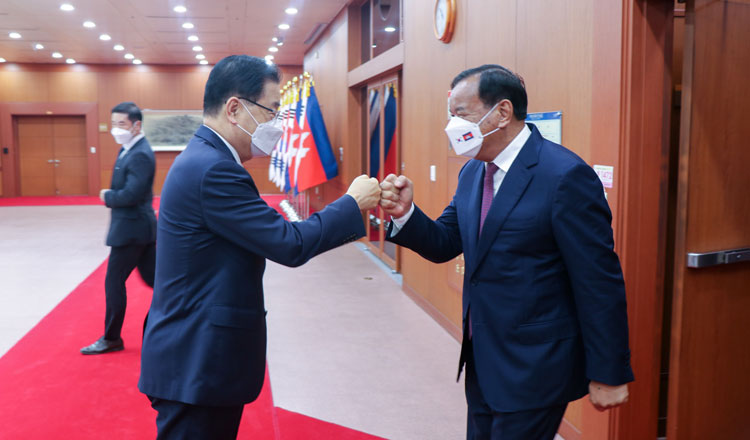 South Korea will continue to assist and cooperate with Cambodia in the fields of water management, public health, transportation, education and in other areas if needed.
This was disclosed by South Korean Minister of Foreign Affairs Chung Eui-yong during a bilateral meeting with Foreign Affairs Minister Prak Sokhonn who was in Seoul on Wednesday.
In addition, both countries agreed to renew their commitment to further develop ICT in governance, strengthen private sector cooperation and engagement, and promote investment in industries and digital sector in the Mekong sub-region, especially in the field of digital economy.
Sokhonn expressed Cambodia's gratitude to the South Korean government for providing development assistance to the Kingdom.
He said this assistance has significantly contributed to the socio-economic development in Cambodia.
"He [Prak Sokhonn] stressed that Cambodia appreciated POK's (People's Republic of Korea) commitment to expand development assistance under the New Southern Policy of the ROK, and welcomes the New Southern Policy Plus, which focus on seven key areas including comprehensive health and medical cooperation," said a press release issued by the Ministry of Foreign Affairs yesterday.
Sokhonn also commended the South Korean government as well as the Korean people for effectively preventing Covid-19 from spreading in the country which resulted in a strong economic recovery.
"He [Prak Sokhonn] also expressed Cambodia's appreciation to the government of the Republic of Korea for the donation and medical supplies to fight against the Covid-19 pandemic," the press release said.
In response, Chung commended the Cambodian government for its efforts in applying effective measures to fight the pandemic, such as the timely vaccination drive across the country.
He also informed Sokhonn that he appreciated the Kingdom's efforts to send its UN peacekeepers to Africa and the Middle East.
Chung said he considered the Cambodian Blue Helmet operation in Africa and the Middle East as a contribution to peace and stability in the regions.
Khmer Times